TV website Hulu has been going through a lot of changes and is still finding its place in the online tv landscape, but in the area of boosting flagging network tv shows it is doing a great job.
Although speculation is rife that the hit website may be taken over by Comcast and all its premium content locked out to non paying viewers, it may be a great place to revive shows that the networks no longer want.
Existing broadcast schedules have a time slot and a desired demographic, which has conspired to make broadcast networks rather tepid and even neuter good TV.

Once a show starts flagging or dropping viewer numbers, the writing is on the wall and usually the next series is axed, and the show ends its natural life, but on Hulu previously dying shows are getting a new lease of life.
Take a look at the hit show – Terminator: The Sarah Connor Chronicles. The series premiered on Fox with good figures in January 2008, its second and last season each show averaged a dissapointing 4.6 million viewers. However on Hulu usershave ranked it in position 35 out of the sites favorites.
Another show Buffy the Vampire Slayer was struggling to get over 5 million viewers. It was killed in 2003 during its seventh season, but has come back as the number 21 most watched Hulu show.
There are many more examples that show the online tv audience are a seperate breed that can revive an ailing show or even used to judge a new pilot show. If the top shows become pay per view it could be a great way to keep existing users happy.
It may be that the networks will, instead of holding the view that the web is an extension of what they offer on standard tv, the web could be used to distribute a different kind of entertainment content and thereby allow online tv to be a positive influence instead of killing there business.

Hulu Desktop Is a Peek at the Future of TV
Everytime somebody has said that Hulu killed TV, they were exaggerating. Until now maybe. Hulu Desktop sure looks a whole lot like the future of TV.
There are thumbnail previews that pop up as you move alongside the scrubber, like Netflix's streaming app. You can queue episodes too—you need a Hulu account for this. There are bunch of different ways to find content: via search, Hulu channels, by studio alphabetically or just through suggestions.
There are ads, but that's part of it simulating TV, no? Also, all of the usual Hulu catches do apply—only a few episodes back catalog of current shows, your favorite shows could vanish at a corporate whim, that kind of thing, which keep it from totally replacing your cable subscription for some people. That said, it+Netflix have definitely helped me live without TV for the last couple of years, though I still miss being able to flop in front of the History Channel for a couple hours on weekends sometimes.
One other small gripe so far is that the onscreen keyboard looks a bit small to punch with a remote, but ideally, you won't need it very often. It's also not a light application, as you can see:
It's available for Mac and PC, though you need a relatively modern machine (2GHz processor, 2GB of RAM and 2Mbps internet connection). There are a few more goodies at Hulu Labs as well, like time-based browsing. Hulu Desktop's definitely gotten us pretty excited, but at the very least, it's worth checking out, and makes us even more hyped for that iPhone app, since it shows Hulu's not going to stop at just one screen. [Hulu Desktop]
Hey, this sounds pretty good!

I could cancel my subsciption to SkyCable if I put up an antenna, to receive the Local free TV stations that my asawa likes to watch.

We then just watch the likes of National Geographic, Discovery Channel, and Movies, etc via the Internet.
Broadband speeds are getting faster, and Service Providers like PLDT and Globe, are now bundling Landline and DSL Service in one Bill, so it getting cheaper (or higher speeds for same price as currently paying for Landline and for DSL).
PLDT already offering a Free Service over Broadband called WatchPad
PLDT Watchpad lights up DSL experience
(The Philippine Star) Updated September 10, 2009 12:00 AM

Japanese drifting champ Nob Taniguchi (third from left) with local drifting champs Alex Perez and Gio Rodriguez (second and third from right, respectively) and celebrity drifting enthusiasts (from left) Pia Boren, Ryan Agoncillo and Gabby Dela Merced, during the press briefing of the competition held over the weekend in Greenhills. With them is Taniguchi's interpreter
(center)
| Zoom
MANILA, Philippines - The country's top broadband company PLDT MyDSL, in its continuing tradition of introducing excellent innovations to its clientele, aims to enrich and enliven DSL experience with the launch of Watchpad, a new value-added service offered free to all PLDT MyDSL subscribers.
Watch Pad, an exciting new service that allows PLDT MyDSL subscribers to watch their favorite television channels for free and in real time over the internet is the latest innovation to be launched this month.
Guaranteed to redefine the overall broadband service in the country by enriching the DSL experience, Watchpad has secured the partnership of at least 13 channels — MTV, Disney Channel, Playhouse Disney, CNBC, Solar Sports, Pinoy Box Office (PBO), Go Channel, Crime and Investigation Network, 2nd Avenue, GMA Network, History Channel, Bio Channel and ETC to be viewed on-line.
These channels are featured on top of PLDT MyDSL's exclusive Watchpad channel called MyView where people can get the latest in celebrity news, fitness and fashion tips, and even the hottest indie music online. Another unique feature, myFlicks allows the subscriber to stream movies in this exclusive Watchpad video on demand channel. Watch it, when you want it.
Another first from PLDT, the myDSL Watchpad has made sure there is something to cater to the different members of the family.
Most recently, Watchpad has streamed the Viloria-Iribe match straight from the US and made Filipinos at home witness the glory of the Filipino boxing champ. The prestigious and the country's biggest Professional Drifting Championship, showcased by Japanese champ Nob Taniguchi, was streamed live as well over the weekend. The competition also featured local champs Alex Perez, Gio Rodriguez, and celebrity enthusiasts Gabby Dela Merced, Ryan Agoncillo, among others.
The young and the young at heart will also enjoy the privilege of the channel's integrated chat feature where one can do simultaneous tasks while tuned in on watchpad. Those who want to shadow friends and relatives through Twitter or upload their latest pictures on their Facebook account can "multi-task" by watching the worldwide premiere of, say, Justin Timberlake's latest video on MTV, too.
PLDT myDSL subscribers can get their unique username and password by logging on to www.pldtwatchpad.com to avail of this value added service. With partner group Mediascape as content provider, PLDT myDSL delivers the TV shows on reliable PLDT landlines.
There has been other such offerings of TV and Movies via the Internet, in other countries.

In the UK for example, since the introduction of Digital TV broadcasting, one has been able to watch TV Programs from the BBC through iPlayer.


Same with ITV, Channel 4 and Channel 5, and to some extent SKY.
The downside is of course that because of copyright issues all this content,

free to UK viewers

, is

NOT viewable

, from

outside the UK!
Basically they check your

IP Address
,
and if not the UK, then they
block the content.
Hulu the newly launched 'Free on demand video' from the most popular Studios and online networks including Fox, NBC, Bravo, Comedy Time, E! Entertainment Television, Fox Atomic, Fox Reality, FX Networks, Golf Channel, Movieola, National Geographic, Oxygen, Sci Fi Network, SPEED, Fight Network, Style Network, USA Network and many more.
The aim of Hulu is to provide viewers with the biggest, most comprehensive range of online premium shows and movies all for free and as it has the support of most major TV networks it will become a big player in the internet TV market.

The downside is of course that because of copyright issues all Hulu's content is viewable from the USA only. Boooooo.
Again, Hula this time, will check your IP Address, and if not a USA IP Address, then they block the content.
There are some exceptions for US Bases etc mot within the USA.

Of course for viewers outside the UK and outside the USA, there are some ways and means. Generally this is done via the use of a Proxy Server or VPN. Trouble is finding a one that is not publicly listed (since if known, can be blocked). There is software that searches for new Proxy Servers, but if you find one that works, how long for and what is the performance likely to be like, if offered for free, and many using it?
I discovered a good one for the UK, that offered 48 Hour Free Trial, I am pleased to report it was very easy to install (Toolbar for Internet Explorer), and worked successfully.

UKTelly Toolbar 1.0
Watch UK Television from anywhere worldwide.

UKTelly Toolbar 1.0
Tested spyware free
Publisher's description



From UKTelly :
UkTelly toolbar.
The ultimate Internet Explorer toolbar to access UK Television anywhere in the world. Watch BBC, ITV, Channel 4, Five; and access all UK content as if you are in UK. UK TV from abroad and much more with our UK Proxy network.
Quick specs

Price:

Free to try (48-hour trial);
Operating system: Windows XP SP 1, Windows Vista, Windows XP SP 2, Windows XP Professional, Windows Vista 32-bit, Windows Vista Home Basic, Windows XP, Windows XP 32-bit, Windows Vista Ultimate, Windows Vista Home Premium, Windows XP Home Edition, Windows Vista Business, Windows Vista Enterprise
I was able to use the BBC iPlayer, without restriction, to download the first 3 Episodes of the 2nd Series of "By Any Means", and to watch Episode 4, shortly after it was broadcast, and subsequently download via iPlayer.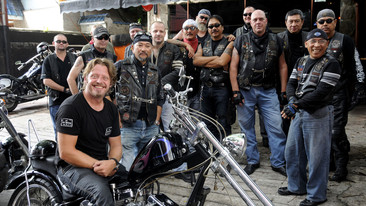 Synopsis
Charley Boorman travels from Sydney to Tokyo. He reaches the Philippines, where he witnesses the national pastime of cockfighting and sees the impact of World War II first hand.
Coming today
BBC Two at 9:00 pm
BBC iPlayer soon after
Re: Charley Boorman - Philippines
Filename:
ByAnyMeans2- Charley-in-Philippi..avi
File description:
BAM2 - CharleyInThePhilippines
File size:
543.35 MB

Whilst it works well for UK Content that is normally blocked to those outside the UK, it does demand you use Internet Explorer to install the Toolbar. It is also no good for other counties like the USA, as you can see:-


We're sorry, currently our video library can only be streamed
within the United States. For more information on Hulu's
international availability, click here.
If you're inside the United States and believe you've received this
message in error, please click here.
"Of course for viewers outside the USA there are always ways and means and in the pursuit of fairness, here it is. Install the following IP changer and you will be able to view.

Download Hotspot Shield from here and after installing and running you will be able to view nott only Hulu but CBS, ABC and all other USA only content providers. I will be writing a comprehensive article on IP changing to enable viewing of all these networks in a future post"
Even if you find a

FREE Anonymous Proxy

, you may well find it

does not work!
Based on your IP address, we noticed you are trying to access

Hulu

through an

anonymous proxy tool

.

Hulu is not currently available outside the U.S. If you're in the U.S., you'll need to disable your anonymizer to access videos on Hulu.
If you think you're receiving this message in error, please submit this form.
So

don't bother

trying, as that
Hotspot Shield
from
here
,
clearly

did not work for me?
Give up on trying to watch such USA content, outside the USA

, via

FREE Services

.

Ask yourself

WHY are they offering it for FREE, if it works
?
Encouraged by a British friend of mine, having signed up for 6 month subscription to this IdentityCloaker he

confirms it works.



So, I may well cancel our SkyCable subscription, install an Antennae for the local TV programs, and use this to watch British TV on my PC, as well as USA content from Miro and Hula feeds, hopefully.


It is the fact they have Secure Servers in several Counties

(as confirmed by trialing their Software via 'Demo' login),

as well as

encrypted link to their Servers

. They also provide

VPN Service

, so much better chance of working with the likes of much

Miro

and Hula content

Contact me

to obtain

25% Discount Coupon



This is a follow up post to my earlier post about watching internet video (Hulu and YouTube) on a TV. Since I still haven't found a set top box that I can recommend, I thought it would be helpful to describe how to hook your PC or laptop up to your television.
If you have an older PC or laptop, and an older TV, most likely what you need is an S-video cable.
If you have a newer PC or laptop and an older TV, DVI to S-video is more likely what you need.

Lastly, if you have a new PC or laptop, and a new TV (like a flat screen LCD TV) – you probably need a DVI to HDMI cable.
Hooking up your PC to your TV can be a pain. Here is another article I found about internet set top boxes. One that looks promising that I didn't mention before is the "vunow". The vunow claims to offer NBC content, but I couldn't figure out where to actually buy it – so it may not be released yet.
It seems like someone just needs to get this hardware done so we can make cable and broadcast TV obsolete.